This is to bring to your notice the application window for Excellence Presidential Scholarships at Illinois Wesleyan University, USA 2023-24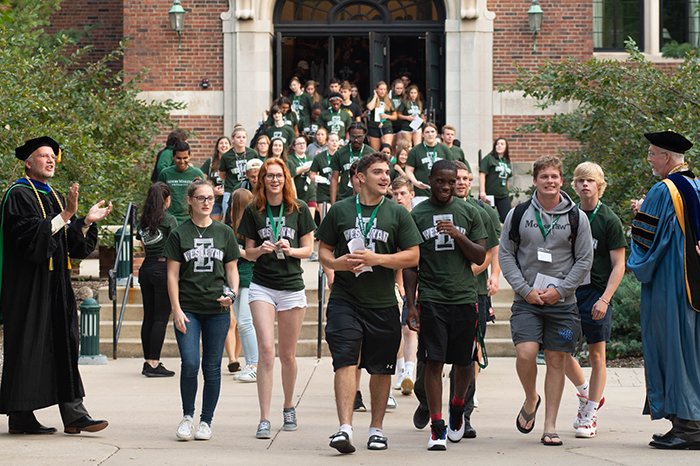 Important Points
Listed below are the summarized points you need to note about Excellence Presidential Scholarships at Illinois Wesleyan University, USA 2023-24:
Funding is full
They take all courses at Illinois Wesleyan University
International Students are eligible
All Undergraduate applicants are eligible
Brief Description
International students in each first-year entering class are eligible for the Illinois Wesleyan University President's Scholarships as well as other need-based financial help. International students are those who are not citizens or lawful permanent residents of the United States.
To qualified overseas applicants with exceptional academic success and test scores on the necessary admission tests, merit-based scholarships are made available. For up to four years, these prizes are renewable and fully supported.
Application Deadline
Application deadline is February 15, 2023.
Eligible Courses
The Excellence Presidential Scholarships at Illinois Wesleyan University, USA 2023-24 is a scheme that looks to reward high-achieving internationals, and it is only available for the course below:
Eligible Countries
Students from the following nationalities are eligible:
Scholarship Award Benefit
All of the following will be provided by the university:
The awards include payment of the whole cost of tuition.
Degree Type
Excellence Presidential Scholarships at Illinois Wesleyan University, USA 2023-24 is primarily for Undergraduate programs.
Number of Awards
2
Eligibility Criteria
All applicants must meet the following criteria to be considered for the Excellence Presidential Scholarships at Illinois Wesleyan University, USA 2023-24
Outstanding abilities, hobbies, and academic accomplishments are taken into consideration when awarding Illinois Wesleyan University President's Scholarships.
Application Procedure
The following procedure remains the only viable route to apply rightfully:
Application from WU or Common Application (there is no fee or preference for either application)
copies of your official academic transcripts from all high schools and institutions you have attended or are presently enrolled in. The most recent three years of grades should be included on transcripts. Academic documents must be written in English and notarized.
Test of English Proficiency. Scores from the Duolingo English Test, IELTS, TOEFL, or GTEC are also acceptable. In addition to TOEFL results from a single test date, IWU also accepts MyBest scores. IELTS band score of 6.5, TOEFL iBT (Internet-based) score of 80, and Duolingo English Test score of 105 are the minimum requirements for admission. Scores that are older than two years won't be considered.
A waiver of the English language competency test is granted to qualified candidates upon request.
Essay
One English-language letter of recommendation from a teacher or counselor who can vouch for your academic standing and proficiency in speaking, listening, and reading the language.
Financial Statement for the Family International students are admitted according to need at IWU. Applications are assessed without further consideration of ability to pay after making the necessary financial commitment of $10,000 USD annually (need-blind).
Please submit a photocopy of your passport in.jpg or.pdf format to international@iwu.edu. If you don't have a current passport, do let us know. Your application for admission won't be delayed as a result.
Test results that are standard. SAT, ACT, 3 AP test results, 3 IB exams or IB Diploma (on track for the diploma), and 3 A-Level examinations must be submitted, but only ONE of them. No SAT Subject Tests are necessary for us.
OR a private meeting (for test optional).
It is still necessary for international students whose first language is not English to submit either the TOEFL or IELTS.
Artists who apply
If you are applying to the School of Music or School of Theatre Arts, audition materials can be submitted online. If you are applying to the School of Art, your portfolio may be uploaded as part of your admissions application.
The relevant testing agencies shall send official copies of test score results directly to Illinois Wesleyan. A copy must be certified by a school representative as an official copy of the original before being mailed or sent via email.
Please send all supporting documents to:

International@iwu.edu 309-556-3031
Assistant Director for International Admissions Illinois Wesleyan University 1211 Park Street Bloomington, IL 61701 United States

Please click the Excellence Presidential Scholarships at Illinois Wesleyan University, USA 2023-24, to begin your application.
Frequently Asked Questions
The following are the FAQs that would help you in your scholarship search:
What is the Excellence Presidential Scholarship at Illinois Wesleyan University, USA ?
It is a Undergraduate position for only high-achieving applicants of the scholarship at Illinois Wesleyan University
What are Tips to Increase My Chances of Getting Selected
Follow deadlines and give all documentation correctly upon request.
Is this Scholarship for Both Domestic and Foreign Applicants?
This is for only international applicants.
Not interested in this particular scholarship? See other scholarships here