This is to bring to your notice the application window for the Lamar University Academic Excellence Awards, USA 2024-25 has now been opened for the general public to apply.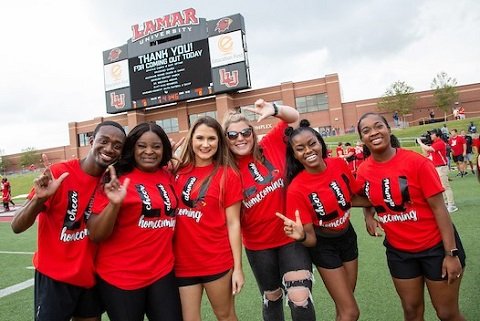 Important Points
Listed below are the key points to be noted about the Lamar University Academic Excellence Awards, USA 2024-25:
Funding is not full
All the following courses offered at the host institution in respective departments and faculties are eligible for this scholarship:
International students are eligible
All Undergraduate and Graduate applicants are eligible
Brief Description
The Lamar University Academic Excellence Awards for the academic year 2024-25 in the United States stand as a testament to the institution's commitment to recognizing and nurturing exceptional academic talent. These prestigious awards are designed to honor students who exhibit outstanding scholarly achievements, demonstrating a dedication to academic excellence across various disciplines. Lamar University's Academic Excellence Awards contribute significantly to fostering a culture of intellectual rigor and accomplishment, providing deserving students with both recognition and financial support to further their educational pursuits.
Also Apply: Wright State University Academic Merit Scholarships, USA 2024-25
Open to a diverse range of students, the Academic Excellence Awards at Lamar University underscore the institution's belief in the transformative power of education. These awards not only celebrate individual academic accomplishments but also serve as a means to empower and inspire a community of learners. By acknowledging and supporting students who exemplify academic excellence, Lamar University reinforces its commitment to cultivating a dynamic learning environment where intellectual curiosity and achievement are celebrated and encouraged.
Application Deadline
The application deadline is December 1, 2023.
Eligible Courses
Lamar University Academic Excellence Awards, USA 2024-25 is a scheme that looks to reward high-achieving internationals, and it is only available for the courses below at the respective faculties:
Eligible Countries
Students from the following nationalities are eligible:
Scholarship Award Benefit
The university will provide all of the following:
Financial Support:

students will win up $32,000 over four years: $5,500 per year will be applied toward tuition and $2,500 will be applied toward on-campus residence hall at Lamar University.
Degree Type
The Lamar University Academic Excellence Awards, USA 2024-25 is for Undergraduate and Graduate applicants.
Number of Awards
Eligibility Criteria
All applicants must meet the following criteria to be considered for the Lamar University Academic Excellence Awards, USA 2024-25:
Eligibility Criteria:

The Lamar University Academic Excellence Award program is exclusively available to first-time-in-college freshmen. Notably, dual credit and AP credit recipients remain eligible for consideration.

Academic Achievement Standards:

Applicants must exhibit a commendable academic record, with a minimum high school GPA of 3.8. Additionally, candidates should rank within the top 25% of their high school class to qualify for the award.

Alternative Assessment for Freshmen:

For those who may not meet the GPA and class rank criteria, submission of standardized test scores is an alternative route. Applicants can provide either SAT scores falling within the range of 1200-1320 or ACT scores between 25-28.

International Student Consideration:

International students seeking the Lamar University Academic Excellence Award must also submit standardized test scores. The specified criteria for consideration are SAT scores ranging from 1200-1320 or ACT scores falling within the range of 25-28.
Application Procedure
The following procedure remains the only viable route to apply rightfully:
Application Process:

Kickstart your journey towards the Lamar University Academic Excellence Award by completing the supplemental LU Scholarship application. Access the application form at edu/myscholarships to get started.

Essential Documents:

Gather and submit the necessary supporting documents to strengthen your application:

Official transcript(s) demonstrating the conferred bachelor's or master's degree, a prerequisite for the intended program. Ensure the institution is regionally accredited in the US or its equivalent.
Provide details of your most recent attendance, even if it differs from the institution where you earned your degree. This applies irrespective of the duration of attendance and whether credit was earned or sought.

Admission Requirements Check:

Before applying for the Academic Excellence Award, prospective students must thoroughly review the entry requirements set by Lamar University. Ensuring you meet these criteria is essential for a successful application.

Language Proficiency Verification:

International applicants, whether at the undergraduate or graduate level, must validate their English language proficiency. This can be achieved by submitting scores from recognized language proficiency tests such as TOEFL or IELTS.
By breaking down the application process into clear steps, this listicle provides a user-friendly guide for students aspiring to be considered for the Lamar University Academic Excellence Awards in the USA for the 2024-25 academic year.
Please click the Lamar University Academic Excellence Awards, USA 2024-25 to begin your application.
Frequently Asked Questions
The following are the FAQs that would help you in your scholarship search:
Lamar University Academic Excellence Awards, USA
It is an Undergraduate and Graduate position for only high-achieving applicants of the scholarship by Lamar University
What are Tips to Increase My Chances of Getting Selected
Follow deadlines and give all documentation correctly upon request.
Is this Scholarship for Both Domestic and Foreign Applicants?
This is for International applicants.
Not interested in this particular scholarship? See other scholarships here