Getting yourself positioned in the international space starts with ambition, something well represented in the Transform Together Scholarships at Sheffield Hallam University.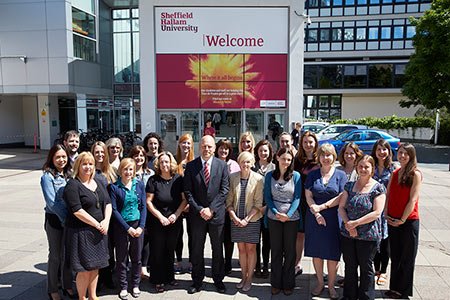 Important Points
Listed below are the summarized points you need to note about the Scholarship Programme
Funding is Partial
They take all courses at the Sheffield Hallam University
International students are eligible
All Undergraduate and masters students are eligible
Brief Description
Transform Together scholarships are available for all full-time undergraduate and masters programs at Sheffield Hallam University UK.
The scholarships will be given to deserving students who show academic, personal, or professional excellence on their scholarship application form. Following enrolling in their course, successful applicants will be given a certificate to commemorate their accomplishments.
Application Deadline
The Application Deadline is May 31, 2022.
Eligible Courses
Transform Together Scholarships at Sheffield Hallam University, UK 2022, is a scheme that looks to reward high-achieving international students is only available for the course below:
All courses taken at Sheffield Hallam University
Eligible Countries
Students from all nationalities are eligible.
Scholarship Award Benefit
Transform Together Scholarships at Sheffield Hallam University, UK 2022 offers 50% tuition fees for successful applicants at the university. See the full breakdown below:
For postgraduate courses and each year of an undergraduate degree, a half fee waiver (50 percent) is available.
A package of incentives is still being finalized, but it will contain the following:
the chance to serve as an alumni ambassador in your home country; a series of events aimed at enhancing your studies and social interactions with fellow scholars
a hoodie from Sheffield Hallam University
During the academic year and after graduation, successful scholars will be asked to represent Sheffield Hallam University in a variety of activities.
Degree Level
The Transform Together Scholarships at Sheffield Hallam University, UK 2022, are primarily for undergraduate and masters students.
Number of Awards
Not specified
Eligibility Criteria
To be eligible for the Transform Together Scholarships at Sheffield Hallam University, UK 2022, the following criteria must be met:
Be a fee-paying international or European Union (non-UK) student.
Only postgraduate students who have received a minimum 2.1 or equivalent in their honors degree and who meet the English and academic entry requirements for their course are eligible to apply.
Undergraduate only – having met the course's English and academic admission criteria. If you get an undergraduate scholarship, you must finish each year of study satisfactorily to continue receiving the fee waiver.
Accepted a full-time undergraduate or postgraduate teaching position at Sheffield Hallam University.
You should be able to fund your studies on your own fully.
You must be able to pay any additional fees that your course may impose, such as field trips.
Application Procedure
To apply, all arranged and organized steps have been highlighted below:
Fill out an application for a course at Sheffield Hallam University. Please visit our online prospectus if you have not yet applied for a course.
Make sure you meet the scholarship requirements given below.
Apply for a scholarship online using the link below by May 31, 2022, once you've applied for a course and received a student identity number from us.
send your academic transcripts to [email protected]
Within one month following the deadline, you will be notified if you were successful.
Visit Transform Together Scholarships at Sheffield Hallam University, UK 2022, for more information
Not interested in this particular scholarship? See other scholarships here