This is to bring to your notice the application window for the Falmouth University Cornwall Postgraduate Scholarships, UK 2024-25 has now been opened for the general public to apply.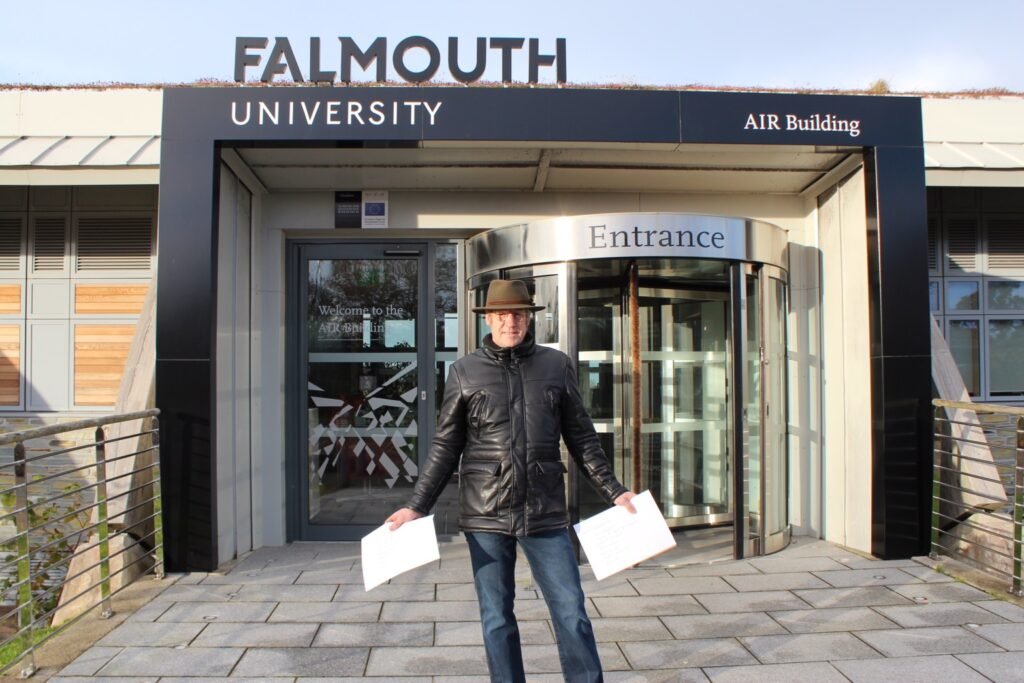 Important Points
Listed below are the key points to be noted about the Falmouth University Cornwall Postgraduate Scholarships, UK 2024-25:
Funding is not full
All the following courses offered at the host institution in respective departments and faculties are eligible for this scholarship:

Marketing MSc
International Business Management MSc
Entrepreneurship & Innovation Management MSc

International students are eligible
All masters applicants are eligible
Brief Description
Cornwall Business School, situated in Cornwall, United Kingdom, stands as a distinguished institution of higher education. Revered for its unwavering commitment to delivering high-quality business education, the school boasts a comprehensive array of programs spanning business management, entrepreneurship, and finance. With a dedicated focus on preparing students for success in the ever-evolving realm of business, Cornwall Business School strives to furnish them with the knowledge and skills essential for thriving in their future careers.
Also Apply: University of Essex Africa Undergraduate Scholarship, UK 2024-2025
Opting to pursue studies at Cornwall Business School presents a remarkable opportunity for academic excellence and exposure to global prospects. The institution distinguishes itself through its world-class faculty, innovative curriculum, and a vibrant, multicultural environment that facilitates networking and cross-cultural understanding. Opting for the Cornwall Business School International Postgraduate program signifies an investment in a transformative education, unlocking doors to a world of possibilities and setting the stage for a successful and dynamic future.
Application Deadline
The application deadline is November 30, 2023.
Eligible Courses
Falmouth University Cornwall Postgraduate Scholarships, UK 2024-25 is a scheme that looks to reward high-achieving internationals, and it is only available for the courses below at the respective faculties:
Eligible Countries
Students from the following nationalities are eligible:
Scholarship Award Benefit
The university will provide all of the following:
Financial Support:

Up to £5,000 per year per student
Degree Type
The Falmouth University Cornwall Postgraduate Scholarships, UK 2024-25 is for masters applicants.
Number of Awards
Eligibility Criteria
All applicants must meet the following criteria to be considered for the Falmouth University Cornwall Postgraduate Scholarships, UK 2024-25:
Fee Rate Eligibility:

Qualify for the international fee rate (excluding EU students with settled status)

New Student Requirement:

Be a new student at Falmouth University in the academic year 2023/24

Deferred Offer Consideration:

2022/2023 deferred offer holders will also be considered for the scholarship

Degree Offer Eligibility:

Hold an offer for a full-time, on-campus master's degree at the Cornwall Business School
The degree should commence in January 2024

Application Deadline:

Apply by November 30, 2023, at 23:59 BST

Acceptance Fee Payment:

Pay the course acceptance fee (deposit) within 7 days of receiving an offer, if requested.
Application Procedure
The following procedure remains the only viable route to apply rightfully:
Application Process:

No specific application form is required for this scholarship.

Selection Criteria:

The first ten offer holders who have paid their acceptance fee within 7 days of receiving it will be awarded the scholarship.

How to Apply:

Visit the individual course page
Click the 'Apply now' button
Fill in the online form provided

Course Pages:

Access the relevant course page for detailed application instructions.
Please click the Falmouth University Cornwall Postgraduate Scholarships, UK 2024-25 to begin your application.
Frequently Asked Questions
The following are the FAQs that would help you in your scholarship search:
Falmouth University Cornwall Postgraduate Scholarships, UK
It is a masters position for only high-achieving applicants of the scholarship by Iowa State University
What are Tips to Increase My Chances of Getting Selected
Follow deadlines and give all documentation correctly upon request.
Is this Scholarship for Both Domestic and Foreign Applicants?
This is for International applicants.
Not interested in this particular scholarship? See other scholarships here