This is to bring to your notice the application window for the Echidna Global Scholars Program at Brookings Institution, USA 2023-24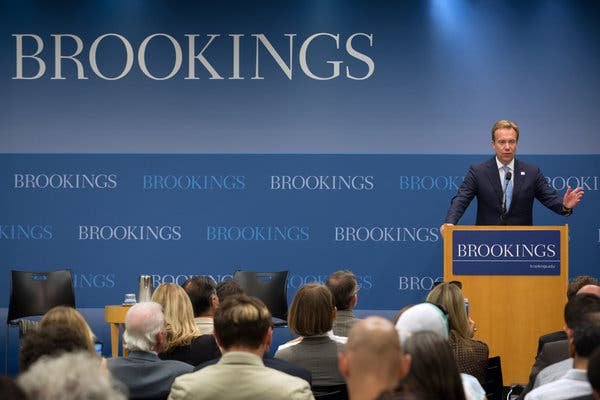 Important Points
Listed below are the key points to be noted about Echidna Global Scholars Program at Brookings Institution, USA 2023-24:
Funding is full
They take all courses at Brookings Institution.
International students are eligible
All Postgraduate applicants are eligible
Brief Description
The Echidna Global Academics Program 2023 is a chance for scholars from all around the globe to conduct a four to six month fully financed research study at Brookings in the United States. The Center for Universal Education (CUE) of the Brookings Institution is home to the visiting fellowship known as the Brookings Institute Echidna Global Scholars Program.
To help the scholars make a difference when they return to their home countries, the program's framework is separated into two key parts: leadership development and research on global education challenges. The program seeks to improve the research and analytical abilities of academics and NGO leaders who have a wealth of knowledge and connections to developing nations.
Application Deadline
Application deadline is December 1, 2022.
Eligible Courses
Echidna Global Scholars Program at Brookings Institution, USA 2023-24 is a scheme that looks to reward high-achieving internationals, and it is only available for the course below:
Eligible Countries
Students from the following nationalities are eligible:
Scholarship Award Benefit
All of the following will be provided by the university:
a living allowance of $22,500 USD for the duration of the pre-residency and residency periods (subject to U.S. tax withholding and reporting). CUE will also pay for round-trip airfare, a basic health insurance plan, single-occupancy lodging for the duration of the three and a half month stay, and the fees related to the visa application procedure.
Degree Type
The Echidna Global Scholars Program at Brookings Institution, USA 2023-24 is primarily for Undergraduate and Postgraduate applicants.
Number of Awards
Not specified
Eligibility Criteria
All applicants must meet the following criteria to be considered for the Echidna Global Scholars Program at Brookings Institution, USA 2023-24:
Professionals with deep links to and experience in the Global South are chosen for the program with the intention of returning there once their residence at Brookings is through.
Candidates must be passionate about and have a track record of dedication to enhancing learning opportunities and life outcomes for girls, young women, and persons who identify as gender non-conforming in and through education.
Candidates must have at least 10 years of professional experience in either research/academic, non-government and civil society, government, or business, as well as a background in education, development, economics, or a similar field. Master's degree is necessary, with a Ph.D. or research experience desirable.
Knowledge/Skills Strong analytical and writing abilities are required. Candidates that are chosen will be intimately familiar with gender problems and educational growth.
Application Procedure
The following procedure remains the only viable route to apply rightfully:
Interested individuals should apply online and provide a single document that includes their cover letter, CV, and resume. Make sure to upload the first application documents listed below;
a CV or resume that includes your education and professional experience, as well as a list of your publications and any fellowships, honors, awards, funded research, or foundation support that you have received, along with a cover letter that describes how the program will impact your life and the lives of your community and your goals and intent for the program. When applying, please include your cover letter and CV or resume together in one document.
the application for the Echidna Global Scholars Program in its entirety.
NOTE: Documents must be stored in the following format: Doe Jane CV (Last Name, First Name, Document Name). It is NOT necessary to provide recommendation letters, writing samples, or transcripts. Please submit a questionnaire and a proposal for a research project in the area for writing samples.
Please click the Echidna Global Scholars Program at Brookings Institution, USA 2023-24 to begin your application.
Frequently Asked Questions
The following are the FAQs that would help you in your scholarship search:
What is the Echidna Global Scholars Program at Brookings Institution, USA ?
It is a Postgraduate position for only high-achieving applicants of the scholarship at Brookings Institution.
What are Tips to Increase My Chances of Getting Selected
Follow deadlines and give all documentation correctly upon request.
Is this Scholarship for Both Domestic and Foreign Applicants?
This is for only International applicants.
Not interested in this particular scholarship? See other scholarships here