Meet the Young Nigerian artist, Adaeze Adinnu who uses her artistic talents to honor and promote our history. Her distinctive and extraordinary artistic abilities have earned her a place in the world of arts.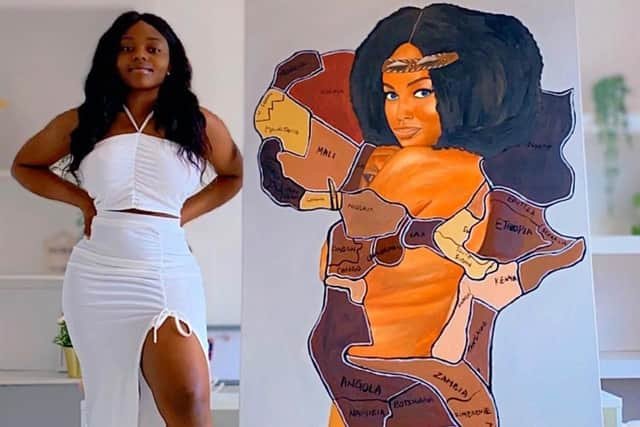 Adaeze Adinnu developed a deep love for painting at a very young age. She would frequently accompany her grandfather, a wonderful and skilled sculptor, as he worked.
"My granddad was a tremendous inspiration to me when I was a child. He used to create wonderful pottery out of clay back in Nigeria and sell it at the neighborhood markets, and I just couldn't stay away.
"I always wanted to participate and get my hands dirty because I was constantly surrounded by artistic inspiration.
Even now, I still do!" she said. Her paintings combine vivid color with 3D multimedia textures to produce aesthetically pleasing works of art that pay homage to her ancestry.
In order to share her amazing artwork with the world, she established her company, "Fabloz Artistry," in 2018. She has managed to strike a balance between art and business as a graduate of business management.
Adaeze Adinnu gave tribute to her time spent in college studying business administration and expressed her gratitude that her degree program has helped her advance in her career as an artist.
The talented young Nigerian has gained local fame because of exhibitions of her artwork at the Northampton Museum and Abington Park Museum.
Her art was displayed at the Art Expo in Dallas, Texas, last month and was aesthetically pleasing and cultural.
CTA on Adaeze Adinnu Story
Jevemo monitors scholarship possibilities throughout the globe so that we can let you know when one becomes available and remind you.
There are several scholarships available right now in Europe, the United States, the United Kingdom, and Canada on our website. Feel free to check them out.