Despite not having a bachelor's degree, Samuel Fajana, a young and motivated Nigerian, was awarded a fully funded internship at the International Union of Forest Research Organizations (IUFRO) in Vienna, Austria.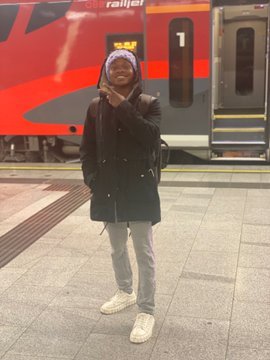 Samuel Fajana, a student at the Federal University of Technology in Akure, South-West Nigeria, explained that the strike by the university staff in Nigeria had prevented him from finishing his bachelor's degree.
According to reports, the academic staff in Nigeria's universities have been closed since February 2022 because the government led by President Muhammadu Buhari is unable to provide the necessary funding.
Samuel Fajana, a victim of the Nigerian educational strike, claimed that he used the time to pursue an internship abroad. He explained that he had previously applied but had been repeatedly turned down till now.
He recalled, "I applied for the two-month internship opportunity with IUFRO – International Union of Forest Research Organizations Headquarters in March last year, but I wasn't successful.
"In August 2021, I reapplied for the IUFRO – IFSA Joint Task Force Deputy Coordinator position but was rejected again after being told that another position would be a better fit for my experience. I carried on thinking that I will try again," Samuel continued.
Samuel Fajana claimed that he saw the opening and chose to apply for it while the Academic Staff Union strike was still in effect. "When I saw the open call for this year, I told myself, "Sam, this is your chance. You're better than you were last year. "Do it!" he exclaimed.
Samuel listed the prizes he had earned throughout the strike, including a $2,000 seed financing prize. "In partnership with National Geographic and The Nature Conservancy, I earned a seed fund of $2,000 from Paragon One for my conservation project at Araromi Seaside."
In February, Samuel Fajana said, "I received an ambassadorship position with Paragon One, which has been assisting me to influence young people for global chances and I also make bucks."
Samuel added that joining IUFRO would be his first opportunity to go outside of Nigeria. For the first time, he had to take a plane out of his country to attend the headquarters of the International Union of Forest Research Organizations for a two-month internship in Vienna, Austria.
Samuel Fajana expressed his gratitude to God and to everyone who had helped him win the prize for Austria.
"Despite the fact that I should have graduated by now, I didn't let the strike action stifle my ambitions or prevent me from advancing in my job. I owe this significant accomplishment to God and the flesh-and-blood angels He has positioned all around me, he stated.
CTA on Samuel Fajana's Story
Jevemo monitors scholarship possibilities throughout the globe so that we can let you know when one becomes available and remind you.
There are several scholarships available right now in Europe, the United States, the United Kingdom, and Canada on our website. Feel free to check them out.