Jennifer Mgobozi, a 75-year-old South African woman purportedly earned a master's degree from the esteemed Walter Sisulu University in the Eastern Cape.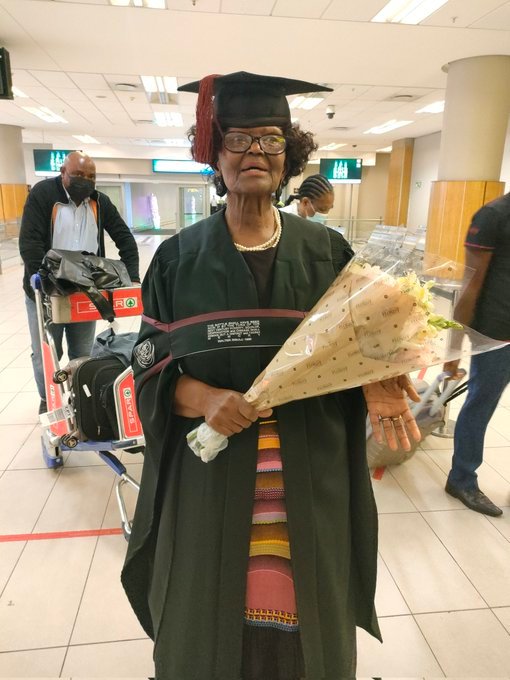 The elderly woman, who received her bachelor's degree in education from Tshiya College of Education in the 1960s, claimed that her brother-in-law Philip Saluva had encouraged her to pursue a career as a teacher.
Jennifer Mgobozi joined a number of non-governmental organizations (NGOs) that concentrate on education after earning her degree. She has a greater interest in teaching languages and can speak more than four languages.
After several working years, Jennifer Mgobozi was motivated to pursue her education further, thus in 2016, she enrolled at Walter Sisulu University to get a Master's degree in Education.
She said, in her own words;
"In Mthatha, I worked with women who were accompanied by their families. They would go to their homes after work, leaving me alone (she had already divorced at this point),"
Why should I feel lonely when I can concentrate on gaining a degree, I reasoned. I had this reasoning because the nearby university is accessible on foot, so why not go there and sign up?
"When I originally informed my family I wanted to study, they questioned me about when I would become tired of learning. They weren't entirely sure at first, but they didn't discourage me.
She continues by discussing the difficulties she has faced and how she has handled them.
The first difficulty was balancing working on it and my job. I would be at work from 8 am to 4:30 pm, but my hours were variable. My academic advisor, Dr. Ntshanga Nqabeni, and I would schedule our meetings for the afternoons because I had work in the mornings.
Madam Jennifer Mgobozi continued by thanking her family for helping her along the way and her boss, whom she characterized as being very patient. "My family was really proud as well. They experience pressure since they haven't studied further, but we are aware that everyone is unique and has various needs, she said.
Jennifer Mgobozi stated that she is eager to pursue her Doctor of Philosophy (PhD) degree despite her advanced age. She said, in her own words;
"Education is crucial. Set attainable goals for yourself if you wish to study. After doing that, you will put in a lot of effort because you want to accomplish those goals.
CTA on Notozi Jennifer Mgobozi Story
Jevemo monitors scholarship possibilities throughout the globe so that we can let you know when one becomes available and remind you.
There are several scholarships available right now in Europe, the United States, the United Kingdom, and Canada on our website. Feel free to check them out.