The first Nigerian-made fiber sports automobile was built in Nigeria and West Africa by Jerry Isaac Mallo, a 27-year-old Nigerian fabrication engineer and Chief Executive Officer of Bennie Technologies LTD,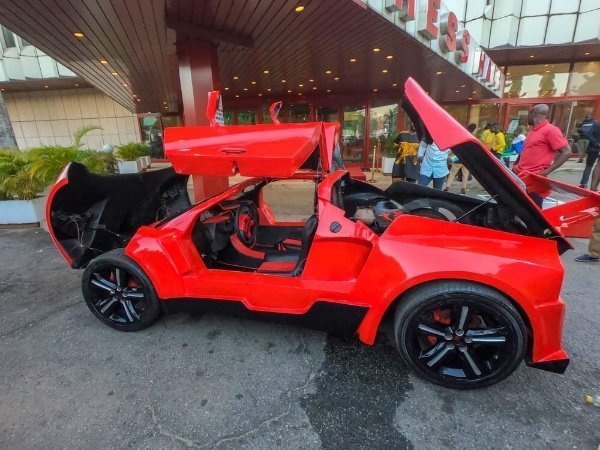 At the age of 18, while still in secondary school, he constructed his first "life-size" automobile out of rubbish in 2012. He finished his coursework in the UK early and headed back to Nigeria to build a vehicle factory.
Jerry Isaac Mallo claimed that, despite having all the necessary resources and raw materials, Africa seldom ever produces automobiles.
He chose to start a vehicle company in order to fill that need, which is another motive.
Jerry Isaac Mallo, the chief executive officer of Bennie Technologies Limited, made national news in November when he introduced the Bennie Purri, Nigeria's first premium sports automobile.
The Bennie Purrie, created by this entrepreneur and automobile engineer, is not his first well-known invention. It was designed using carbon fiber to offer it a more durable safety quality. As a "machine design, construction, and manufacturing firm that streamlines local agricultural operations via mechanization and automation," Jerry Isaac Mallo has long established a name for the Jos-based Bennie.
In order to aid the Nigerian government in its fight against COVID-19, he also made news last year by introducing the nation's first domestically manufactured ventilator.
"In Europe, we discovered that creating the automobile is simply half the issue, and selling it is the other half," he said in an interview with Channels TV. "Africa is generally the target destination to sell these vehicles, therefore I feel there's a great demand for it here."
Regarding the material's safety, Jerry Isaac Mallo noted that the majority of individuals in automobiles are crushed and mangled since these vehicles are built of aluminum or galvanized sheets, which are unable to absorb shocks at high speeds.
With four radiators, the Bennie Purrie sports vehicle has an excellent cooling system that keeps the interior cool no matter the outside temperature. This original model features a 2.0-liter engine that generates roughly 130 horsepower, and it accelerates from 0 to 120 miles per hour in 12 seconds.
The "Bennie Purrie" is constructed of fibers that, in the event of a car collision, break like glass or bottles while the airbags save the occupants.
In order to make this automobile sturdy enough to handle Nigerian roads, it also includes a tubular chassis. In an interview with Tedge News, when questioned about his sources of inspiration, he responded as follows:
"I studied automotive engineering, which is the production of vehicles rather than mechanical equipment, and I'm making agricultural machinery and other hardware not because that's what I learned in school but because it was my own idea. I discovered it online. I spent most of my mornings and my free time on Google and YouTube. I get knowledge there.
CTA on Jerry Isaac Mallo's Story
Jevemo monitors scholarship possibilities throughout the globe so that we can let you know when one becomes available and remind you.
There are several scholarships available right now in Europe, the United States, the United Kingdom, and Canada on our website. Feel free to check them out.