This is to bring to your notice the application window for International Rector's Scholarships at Jagiellonian University, Poland 2022-23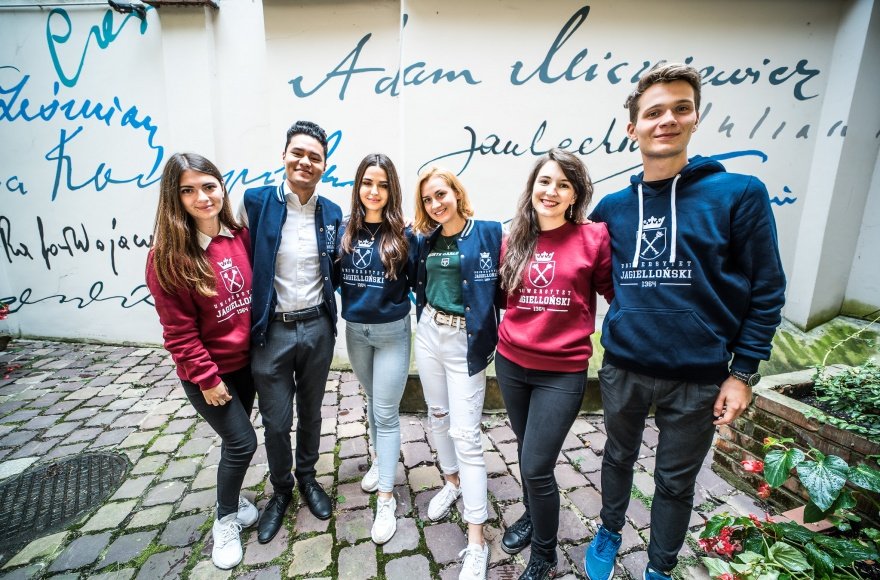 Important Points
Listed below are the summarized points you need to note about International Rector's Scholarships at Jagiellonian University, Poland 2022-23:
Funding is partial
They take all courses at Jagiellonian University
International Students are eligible
All Undergraduate applicants are eligible
Brief Description
The Jagiellonian University invites deserving students to apply for the International Rector's Scholarships. Applications are presently being accepted by the university for the academic year 2022–2023.
The award intends to inspire individuals to enroll at Poland's Jagiellonian University to begin their undergraduate studies. fees at a rate of 20% of the applicable charge.
Application Deadline
Application deadline is August 31, 2022.
Eligible Courses
The International Rector's Scholarships at Jagiellonian University, Poland 2022-23 is a scheme that looks to reward high-achieving internationals, and it is only available for the course below:
Eligible Countries
Students from the following nationalities are eligible for the Scholarships at Jagiellonian University
Scholarship Award Benefit
All of the following will be provided by the university:
The student's Jagiellonian University bank account will receive a wire transfer of PLN 800 per month for nine months as part of the scholarship payment. In subsequent years, the scholarship is awarded to 10% of the top students, and the ranking is determined by adding the points for an average GPA, artistic and scientific accomplishments, and outstanding athletic performance.
A student who is going through a tough time in their life is given a special allowance. To find out who is eligible for the special allowance, go to the "Entitlements" section above.
Theft, fire, flood, a family member's significant sickness or death, as well as any of the aforementioned occurrences, serve as grounds for requesting the exceptional allowance.
After the event, the application must be filed within three months.
The special allowance's maximum value is around 2000 PLN. By wire transfer to the student's bank account number, it is paid just once.
Degree Type
International Rector's Scholarships at Jagiellonian University, Poland 2022-23 is primarily for Undergraduate programs.
Number of Awards
Not specified
Eligibility Criteria
All applicants must meet the following criteria to be considered for the International Rector's Scholarships at Jagiellonian University, Poland 2022-23:
It is given to first-year students enrolled in long- or first-cycle courses during the matriculation test year.
The rules governing the educational system include information on the winners of the worldwide Olympiad as well as the winners or finalists of the Olympiad of the central degree.
These rules pertaining to the sport were referenced in the medalist sports competition for the Polish champion in that event.
All applicants for enrolment in first-cycle and long-cycle courses must possess a high school diploma from Poland or another certificate that enables the holder to pursue undergraduate studies in the nation in which the document was issued.
Application Procedure
To apply, all arranged and organized steps have been highlighted below for the International Rector's Scholarships at Jagiellonian University, Poland 2022-23:
Candidates must be admitted to the institution for an undergraduate degree in order to apply. For this grant, all applications will be taken into account.
Needed Papers: For admission, the following papers must be submitted:

a portrait-accompanied personal questionnaire;
a Personal Questionnaire and a photo for a student ID card
current passport
degrees from higher education earned outside of Poland that are apostle or authorized.
authority of attorney.
a degree from a higher education
Occupational medicine doctor's certification
certified translations of documents
Registrant-uploaded documents.
documents that are published online
documents needed to legally remain.
evidence of health insurance

Entrance Criteria: All prerequisites must be met in order for a student to be admitted to Jagiellonian University.
Applicants must take their results from the following English language proficiency exams:

Cambridge B2 First – minimum of grade C;
Cambridge C1 Advanced;
Cambridge C2 Proficiency;
IB baccalaureate diploma;
EB exam certificate;
IELTS Academic – 5.5 points minimum;
TOEFL (iBT – 72 points minimum, ITP- 543 minimum points, CBT – 180 minimum points);
Degree in English Philology;
Diploma of studies conducted in English;
Citizenship of the country where English is the official language;
Please click the International Rector's Scholarships at Jagiellonian University, Poland 2022-23, to begin your application.
Frequently Asked Questions
The following are the FAQs that would help you in your scholarship search:
What is the International Rector's Scholarship at Jagiellonian University, Poland?
It is an Undergraduate programme for only high-achieving applicants of the scholarship at Jagiellonian University
What are Tips to Increase My Chances of Getting Selected
Follow deadlines and give all documentation correctly upon request.
Is this Scholarship for Both Domestic and Foreign Applicants?
This is for only international applicants.
Not interested in this particular scholarship? See other scholarships here