Verda Tetteh, 17, a student at Fitchburg High School in Massachusetts, completed her high school education recently and was named the school's top graduate. She also received a $40,000 merit scholarship.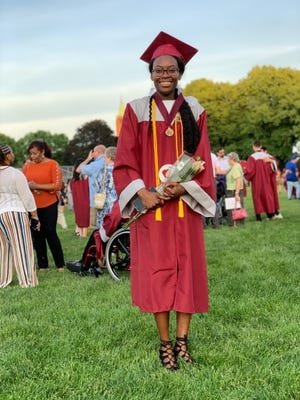 Verda Tetteh made an unexpected request during her graduation ceremony, saying that she wasn't the one who needed the scholarship the most and instead requesting that the $40,000 she had received go to a community college student.
She expressed her gratitude for it by saying, "I am extremely appreciative, but I also know that I am not the one who needs this the most. Knowing how beneficial it was for my mother to attend community college, I would be eternally grateful if the administration would think about awarding the general excellence scholarship to a student attending a community college.
This smart lady, Verda Tetteh received a GPA of 4.9 for her graduation, which made her eligible for additional scholarships.
Verda Tetteh intends to study chemistry at Harvard University with a focus on pre-medicine.
CTA on Verda Tetteh's Story
Jevemo monitors scholarship possibilities throughout the globe so that we can let you know when one becomes available and remind you.
There are several scholarships available right now in Europe, the United States, the United Kingdom, and Canada on our website. Feel free to check them out.